It's been several years now since native ad content started popping up and it seems it's here to stay. So let's dig in and find out what native advertising is all about and whether you should use it?
Essentially, native advertising means blending in your ads within the environment they're in. Be it, TV, newspapers, magazines, blogs, websites or email newsletters.
It has been found that the less an advertisement looks like an advertisement and the more it looks like an editorial, the more readers stop, look and read.
Although there's debate whether your ad should stand out or blend in when advertising, it's been proven that native ads do perform much better than regular banner ads. We all know how ugly and disgusting banner ads look. Hard to imagine anyone clicking on those generic brand ads with models or stock photos. Anyone doing it, should rethink their life. But seriously…
Display ad click though rates have been plummeting since the 90's. According to Smart Insights, as of January 2018, overall banner CTR's are at: 0.05%. I couldn't find recent native ads performance data, but some metrics from 2015 showed 0.33% CTR on average for native ads. We're talking multiple times the CTR of banners. Especially if you take into account Facebook's native ads, which can go as high as 10%+ with volume, there's no question that native advertising is extremely powerful.
Show Me Examples of These Native Ads
Sure. If you've browsed any of the news sites in the past 5 years, you should've seen something that looks like this: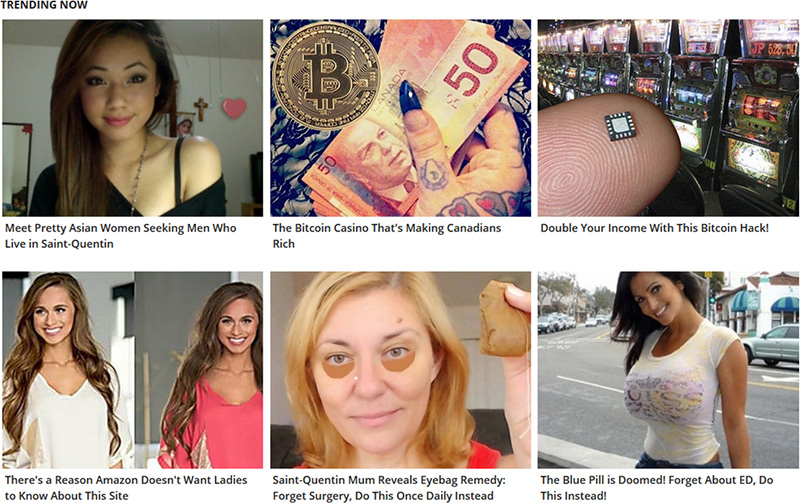 You'll find these ads at the bottom of a news page, resembling "more stories" or "more articles" widgets. Sometimes they come in a popunder, like with content.ad for instance.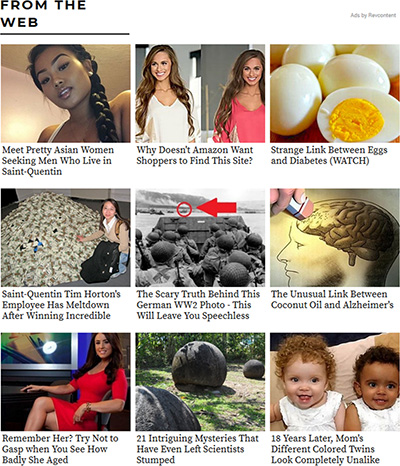 As you can see, it's affiliate friendly.
Take a look at the images and headlines to see what works. (Do manual spying so you see what's working at any given time.) They're simple and eye-catching.
While this advertising medium is growing. Once these native ads networks reach a certain level, don't be surprised if they start banning advertisers left and right like FB or Google does. But so far, it's a great place to advertise.
Quick tip: When making native ads, don't just steal images from others. Steal them, but also add some of your own in the mix to see if swiped image still has traction or not. Use Photoshop filters to increase brightness, contract, and saturation of images to make them "POP".
What Native Content Works on These Networks?
There's no point including Facebook and their native ad examples here, because due to granular targeting, you can make anything work on Facebook. So let's focus on some of the main verticals we see running for years on native.
It's no surprise that you'll see the same niches that are evergreen (health, wealth and relationships).
Skin care, diet, bizopps, crypto offers, dating sites, VSL's (with back pain, blood sugar, arthritis ebooks or supplements), ecommerce, tech (flashlights, GPS trackers) all work well. In general, anything above $10 in payout should work well. Sure you can find some dating sites, but those get higher than street CPA's.
Anyway, here are the examples of some of the landing pages you can often find on native ad networks: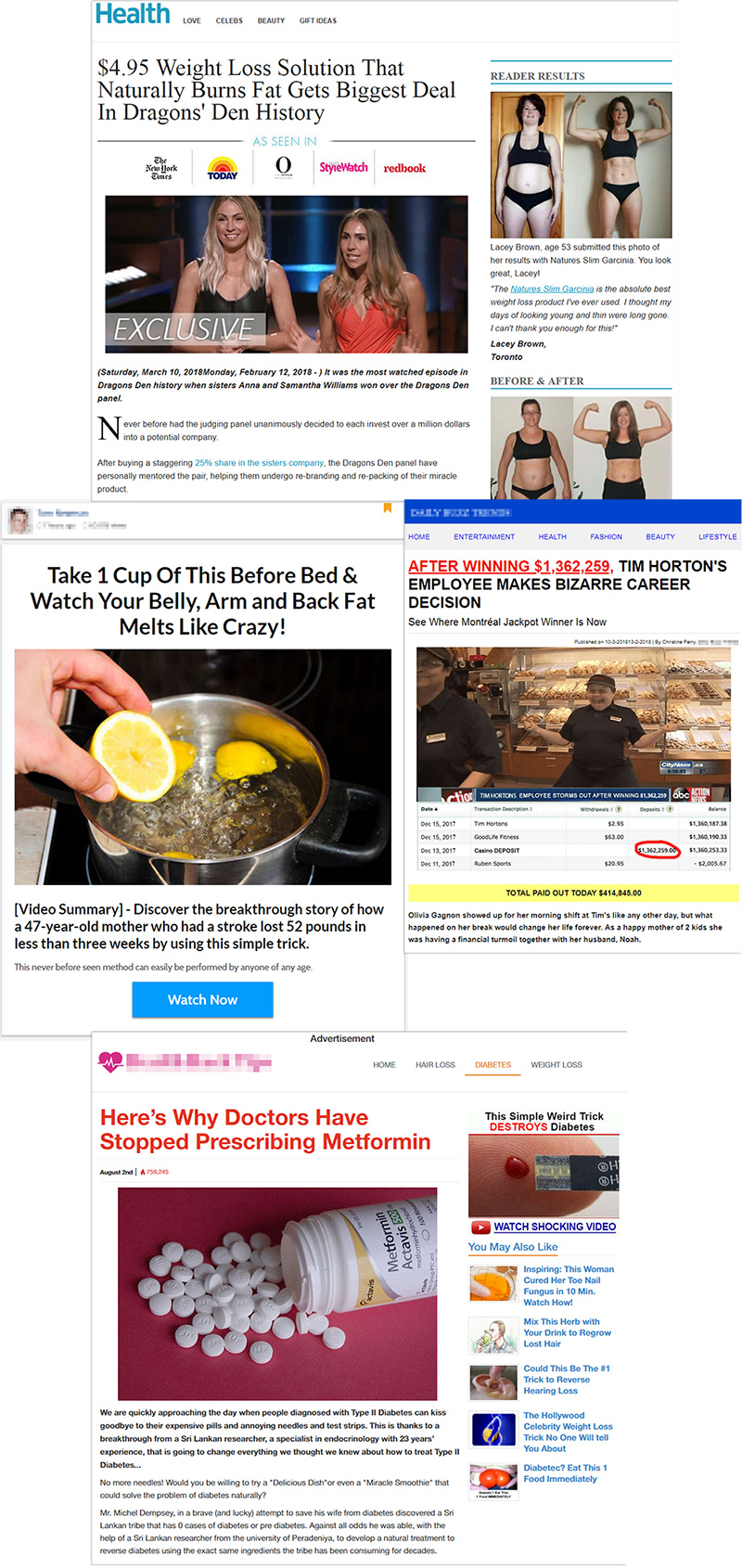 Yep, some of them are cloaked (diet one for sure). Even more lenient networks like RevContent or Content.Ad don't allow these. At least not in United States where FTC is strict and have gone after affiliates in the past. Running such landers in LATAM or Europe or Asia could work very well.
Benefits of Native Marketing
Ok, so let's see why you should go into native advertising if you haven't already.
Pros of native ads:
More affiliate friendly
Scalable (You can spend $60,000/day on these networks)
Premium placements. You advertise on some of the top websites in the world.
CTR's are better. Especially on mobile devices where the volume's at.
Cons of native ads:
Premium prices. CPC's can be as high as $2 per click, although usually $0.2-$0.4 cents.
Needs High CPA offers. Forget most CPL offers.
Another reason why native advertising will stay is adblockers. Most of them work by eliminating knows IAB image sizes. Meaning if they spot a 300×250 image on a page, they'll assume it's an ad and block it from rendering on the page.
With natives, these blend in the web-page more, plus some are responsive, so there's no definitive size for adblockers to look at.
What Native Ad Networks You Recommend?
You've looked at the native ads, content and you like it. You want to get your hands dirty and start testing right away. No problem, let me give you a few tips on where to start so you have better chance of succeeding and hopefully not getting banned if you push the boundaries.
I would categorize these native ad networks into those which allow more aggressive content and those that don't.
Facebook Native Ads – You gotta be squeaky clean. If you cloak, that's another story. You can advertise anything there, there's plenty of room in international markets as well.
Taboola and Outbrain – These 2 I plowed together as they're similar. Both are a bit stricter on the content you can advertise. They won't allow aggressive skin care, diet, muscle or bizopps. What you can advertise here is insurance, ecommerce, tech gadgets, some VSL's. You need to have a small website there with privacy and terms pages (get those from Shopify site).
RevContent – One of the best native networks for affiliates. Although they got stricter, you can still promote skin, diet, muscles and so on… Min budget is $100/day, so watch your account as you may blow through your cash blazingly fast.
Ad – Awesome network. Great quality of traffic, reasonable prices. They're the most lenient out of all and will allow more aggressive landers and ads. Min daily budget is $50, min. funding amount is $250 as we speak.
Mgid – For a long time it was the dating network. CPC's were lower and you would see plenty of Russian brides on their placements. Lately you can find more skin, diet, bizopps as well. Affiliate friendly and easy to get started. Traffic is not the best quality, but plenty of folks make good money there.
There are plenty of other smaller ones. Yahoo Gemini, Adnow, NativeAds, Gravity, Nativo, TripleLift (I'm literally pulling these out of some random size). I haven't tried these, but if you're smaller fish, you may definitely get in there and see what you can take out.
If you have never tried native ads before, definitely give them a shot. Sure, if you're advertising on google AdWords your laser targeted product page, it probably won't succeed on natives. Take a look at the examples to see what you're competing against and then try to be better than those guys.
Native ad marketing is a great option to funnel premium traffic from world's top fake news sites like CNN or MSNBC (lol) as pretty much every one of those uses native ads.
In the end, native is here to stay. Largest websites and tech companies are adopting native ads models. It works, you can get great ROI. It's extremely scalable. And prices aren't outrageous yet, so join and start testing.