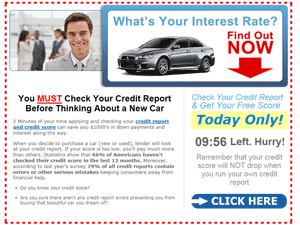 (Coded in HTML/CSS Only) Download in ZIP format
This is one of the 3 credit report landing pages designed for PPV that's meant to focus on car buyers.It's no news that finding angles on PPV is crucial for success. Although this is quite common and many affiliates do this, you can still make it work with the right targets.
As you can see it has a countdown counter for 10 minutes. When then counter reaches 0 it pops up JavaScipt and when you click a button, redirects to the main page. In order to make it work you need to open countdown.js with notepad or something similar and towards the end you'll see a domain.com URL. Simply change it to whatever your offer is. Although this is cheesy, you can still get higher CTR's this way.
Moreover, for additional relevance and CTR boost, GEOscript is placed. It's simple MaxMind JS code and you don't need to do anything. It will show someone's city, state based on where they are. FTC now cracks down on these practices, but you can make it work internationally.
Additional Notes: Scripts are 'stolen' from PPV Playbook. This page uses rotating border around for additional eye grabbing effect.