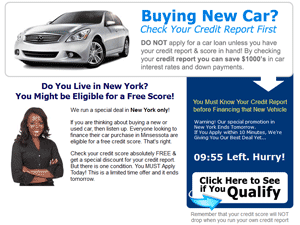 (Coded in HTML/CSS Only) Download in ZIP format
This 800×600 landing page uses countdown script. There are no flashes or borders around it. Images are stock photos. You can obviously replace them with your own. Except header maybe, that's full image and hardly editable, so only useful for one micro niche on PPV and that is car buyers.
As you see it uses geotargeting automatically. You can remove the scripts yourself. Wherever you see something like this:
<script language="JavaScript" type="text/javascript"> 
document.write(geoip_city()); 
</script>
You can remove it from the text and no city will be shown. You may view all the possible combinations at MaxMind website. Simply replace "geoip_city" with "geoip_region" and you can see your region.