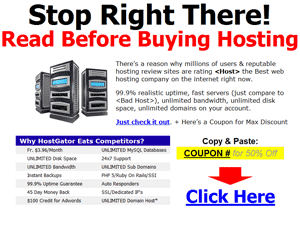 (Coded in HTML/CSS Only) Download in ZIP format
"Into your face" black n' bold headline with a bright red subhead should stop the reader in their tracks. Make the headline stronger, or use better targeting to achieve higher CTR's.
A table below on the left shows features of the web host you're promoting. 90% of that can be left intact as all major hosts offer these same features. You might adjust the uptime rate accordingly. Don't say 100% as no one will believe you.
As almost every host offers coupons, put your coupon in that yellow space and tell how much they can save.
Clear call to action will definitely generate some interest. But as I already mentioned somewhere, you need good targets and laser targeting to achieve decent CTR on the landing page.