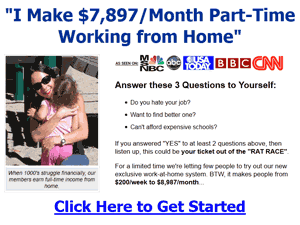 (Coded in HTML/CSS Only) Download in ZIP format
Nice, clean, white CPV LP. Uses news logos for more credibility. No geo-ip targeting. You can copy elements from other LP's for that if you want.
Single mom with a kid. Still hard to beat. Although some now use dad's image for diversification. But mom pics still work well.
LP copy you can change or run this one.
Headline is a good one. This one worked for me even better than the one all bizopp farticles use. But depends on the traffic. So experiment, test and hopefully you can have your successful PPV bizopp campaign.