That was bugging me for a while. I had to dig this shit so deep, play with some stupid FBML scripts found in forums that are usually unfinished and you don't know WTF to do next. Can't those retards just post step by step guide lol…
But anyway, what the heck I was talking about here…
Oh yeah, the redirect thing.
You've seen some marketers and larger brand pages use this technique. It's very neat to force people to "like" your page. For non fan you show one page and after they like your page, you present them another page inside the tab. It could be some cool tips, report or anything. Well, thanx to internet marketing wizard (read his thorough guide) I found an insanely simple solution.
Static HTML: iframe tabs
It's brain dead easy now to make 'redirects'.
Once you install this app, and go to the "welcome" tab you'll face something like this: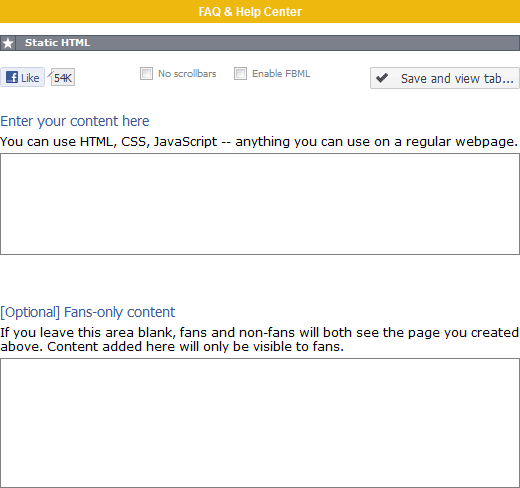 Now you put in any info you want in the first tab for non-fans (before liking) and then in a second textarea put whatever for the fans (after 'liking' your page).
The simplest thing is to use large image asking folks to like your page in first tab and then image in a second one. Image source has to be externally hosted, like your website or 3rd party host. But you can also put regular HTML in it. However, if you want to style HTML, you must include ext. CSS style-sheet at the top.
Save your changes.
And one more thing. Go to your page settings in FB and change the default page from wall to this welcome page. People will land on it, and if you do a good job, will be forced to "like" your page.
You build fans with FB promos and if content is good, page will grow by itself. You can promote to these folks for years and make your money back in no time. Maybe. Or maybe not lol. Test if for yourself.